What was the project?
This was a large project which was delivered over several phases. It involved new build housing for the Council which was exciting at the time as they had not built for many years when this project started in the mid 2000s.  In the end we worked on 70 sites for the council delivering hundreds of homes.
Who was the Client? Did you know them before?
Our Client was Croydon Council.  I hadn't worked with them before this project, although our Company had done; John Farrow our former Managing Partner had worked with another department in the Council on education Schemes.
We won the project through a competitive tender process and were retained for many years due to our good performance.  The project benefitted from the close working relationship of the project team which was built up over time.
How did it come about?
Around 2005 the Council were looking at their housing provision and committed to building a number of new homes in the borough for social rent. This was big news as Croydon weren't building housing at the time.  The sites which were earmarked for development were split into phases in order to deal with the high volume of work in a manageable way. All of the sites were what they call 'small sites' with the first phase being parking sites (either garages or parking areas) that were underutilised and had pre-existing problems with social behaviour. The council wanted to improve these areas for local residents to create a safe space to live. Another batch of the sites were prefabricated properties that were past their lifespan and needed replacement.
What role did you do?
We acted as Employer's Agents for the Council as well as Cost Consultants and Party Wall Surveyors.
As part of our role, we developed close working relationships with the planning team to ensure good quality designs were implemented.
Why was it memorable?
This scheme was considered to be quite an innovative thing at the time, as this was one of the first projects we saw coming out of councils where sustainability was high on the agenda.
The project was delivered with all either Code for Sustainable Homes Level 4 and 5 homes. At the time, Croydon were the only local authority who had delivered any Code Level 5 homes, which was a fantastic achievement.  The future phases were destined to be Code Level 6 and Passivhaus, which although was started, the project didn't go ahead unfortunately due to budget constraints.
Some sites had wind turbines and we put systems in place to monitor the energy generation and how much was produced for the residents, which was quite a cutting edge thing for the time.  We also looked at a range of solutions for the houses and we approached it with 'fabric first' in mind, over insulating the envelope of the houses so that the energy use in occupation was drastically reduced (and the renewable energy provision had even greater impact)- SIPs panels were used for a number of the schemes which was another innovative solution for the time.
We went to deliver 70 small sites in total which was amazing. Ranging from a single house up to around 20 units.
What did you enjoy most about it?
This project was so interesting as they hadn't built any housing as a Council for over 20 years.  As a team we inputted into and helped shape their governance (their internal processes) as well.  Working so closely with the same team from Croydon Council for almost 4 years made a really close knit team.  Although they are no longer at Corydon Council, we are still working with some of the team on other housing schemes to this day.
Another thing that (looking back!) I enjoyed was the high profile of the scheme.  We had to finish them by a certain date for the grant and we were really committed to being involved and getting them completed for our Client.  I remember being on site at 10pm a number of times to get this achieved!
Boris Johnson came down and opened the first site during his tenure as Mayor of London and said:
"These houses are stupendous value for money and conform to the ideas set out in the London Housing Design Guide. More than 60 per cent of the heating will come from the solar panels on the roof and 15 per cent of the electricity will come from the wind turbines…
…The finest city in the world deserves the finest housing for its inhabitants…today marks the start of reversing that downward trend and raising the bar, not just in publicly funded, but all new homes built in London. I want design excellence to become the first priority of any plans for new homes and innovation, in the best tradition of this unique city, to be at the forefront of that design."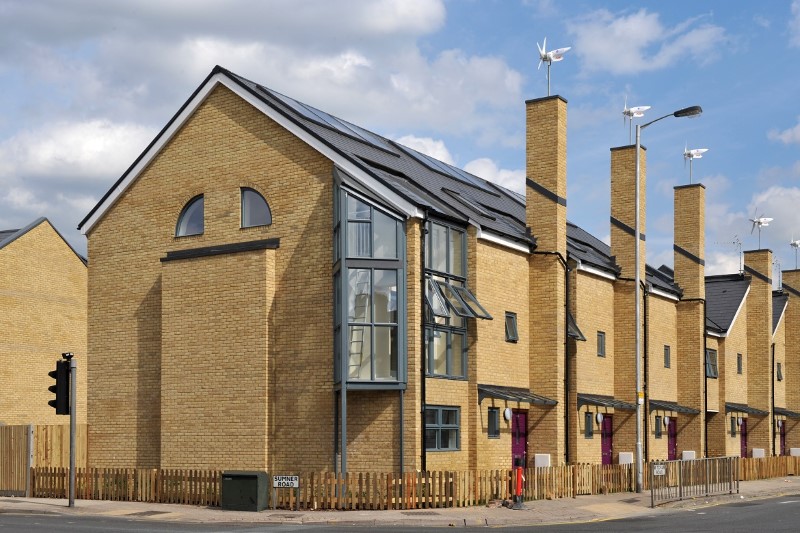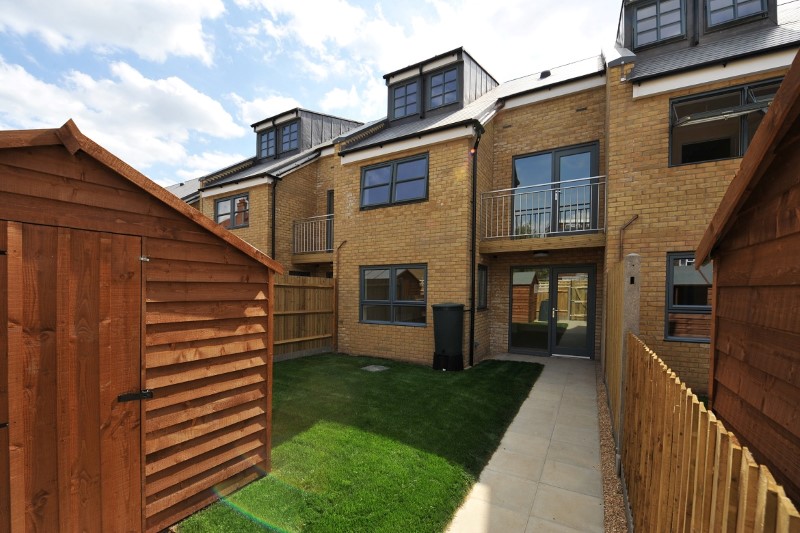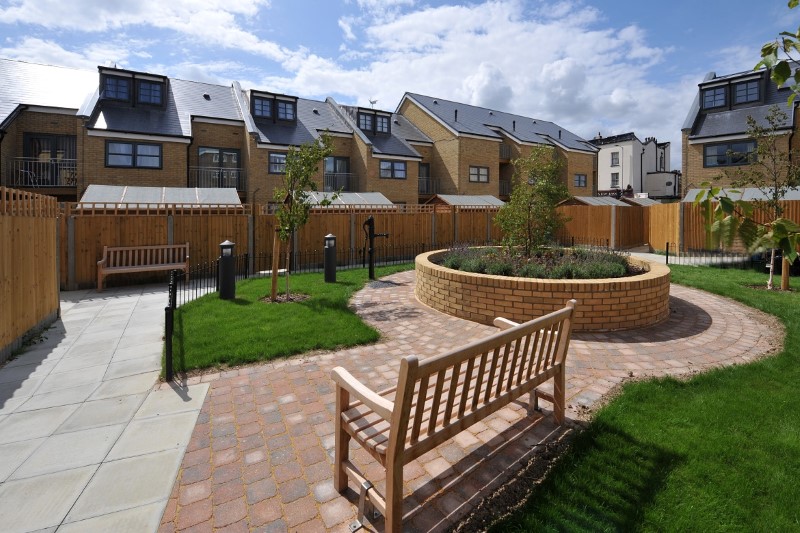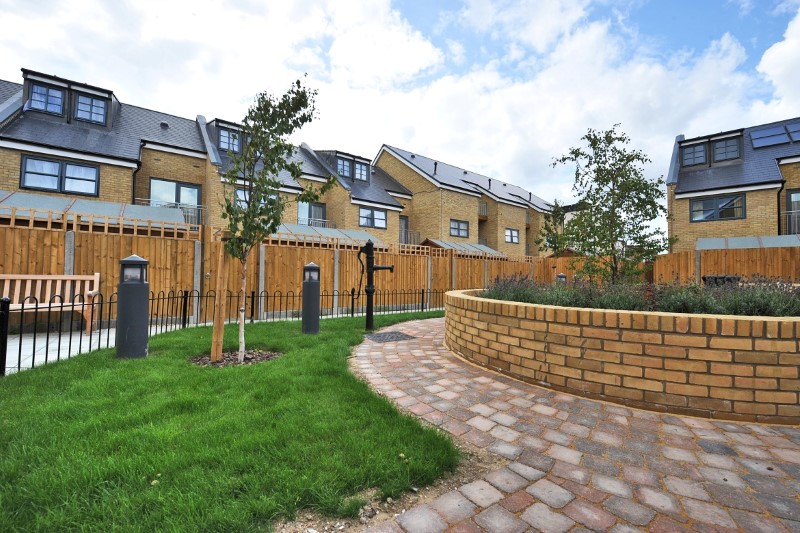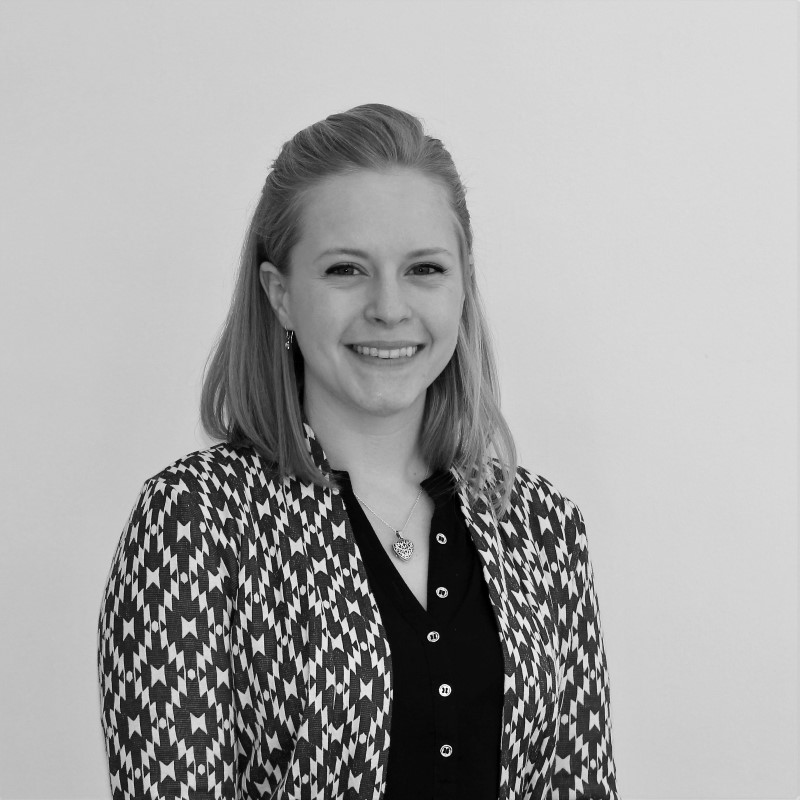 Looking to the future… with Partner Hayley Poynter Fenning
It's been great catching up with Jon on this scheme, in fact this was one of the first projects that I worked with Jon on when I joined Playle & Partners and I still remember the weekly site visits and reports!  It has reminded me of our long-running experience and commitment to sustainable construction – these types of schemes have been a key focus of our company for over 20 years.
Looking to the future, we are seeing a lot of commitment to Carbon Zero Schemes from our main Client base of Local Authorities and as a company who has committed to the RIBA 2030 Climate Challenge this is really great to see.  This year alone we are working on two residential new build projects which have both been earmarked as Net Zero Carbon schemes, a primary school to achieve BREAAM excellent and another primary school which is to achieve Net Zero Carbon in Occupation, to name a few.
For the above schemes we are providing a full service of Architect, Principal Designer, Cost Consultant, Surveyor and Project Manager.
Click here to find out more about RIBA 2030 Challenge and what this means for you:
https://www.architecture.com/about/policy/climate-action/2030-climate-challenge/signatories