Client: Thanet District Council
Services: Cost Consultants, Contract Administrator and Clerk of Works
Value: £1,763,758
The lights at the iconic dreamland seafront building in Margate have been officially switched on. The project, funded by the Department for Communities and Local Government (DCLG) Coastal Communities Fund, has restored some of the key heritage elements which make up dreamland.
A historical lighting technique was used to accurately replicate the colours of the original Dreamland Neon signage.
"Dreamland has been an essential part of Margate's identity for nearly 100 years and the re-opening of the Dreamland amusement park will contribute significantly to the ongoing regeneration of our iconic seaside resort, helping to raise further the profile of the district, provide more jobs and bring greater visitor numbers and opportunities to Thanet as a whole."
Playle & Partners LLP acted as Cost Consultant, Contract Administrator and Clerk of works throughout the successful phase 2 works led by Thanet District Council.
The Dreamland project was shortlisted in the 2019 London & South East Constructing Excellence awards in the Preservation & Rejuvenation category.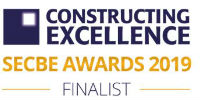 Photographs courtesy of Judge Architects